Cooling Advantages
Compared with other cooling methods, vacuum cooling has many advantages. It is the fastest cooling method foods in the world so far, and the temperature inside and outside of the cooling material is uniform, and there is no pollution caused by contact. Due to the fast cooling speed and short time, the food will not have dehydration in locality area of food, chapping and other phenomena caused by air cooling.
The intelligent cooling adjustment system ensures that the temperature of the surface and the center of the product is almost the same (±2°C) after cooling, and the cooling process quickly passes through the high temperature oxidation period, making the color bright. It ensures that the microstructure of the product is not damaged, so that the taste and appearance are better. Quickly cooling leaves bacteria no time to multiply ,and extend the shelf life.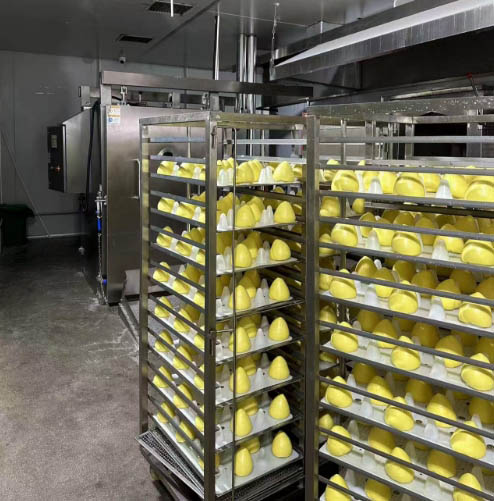 Bacteria Control
Temperature is one of the more important parameters affecting food quality and safety. Within the temperature range, the lower the temperature, the slower the bacterial reproduction; the higher the temperature, the faster the reproduction (generally the suitable temperature for microbial growth is 28°C-37°C). Rapid cooling greatly shortens the cooling process of food materials. Time in this dangerous temperature zone reduces the risk of bacterial growth and extends shelf life.
Steam system is dual-purpose. In addition to being used as a vacuum energy source, steam can also be used for high temperature sterilization of the equipment that cannot be disassembled and cleaned before the equipment works. Kill bacteria and microorganisms on the inner wall of the pipeline, prevent food from being contaminated, and ensure our food safety.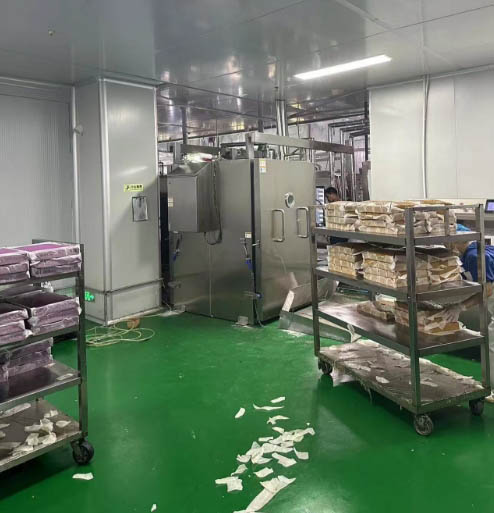 Automatic Production line
The vacuum vacuum cooler has a compact design, only occupy a small space for installation, but high cooling efficiency. So It can meet well the installation requirements of customer's automatic production lines. Vacuum cooler is controlled by intelligent PLC system, temperature controlled precisely, and the whole operation can be realized without manual intervention. It can not only reduce people's labor intensity, make people get rid of manual labor to enrich cultural life, and greatly liberate productivity, but also save time and improve efficiency. Production costs, and reduce the waste of raw materials.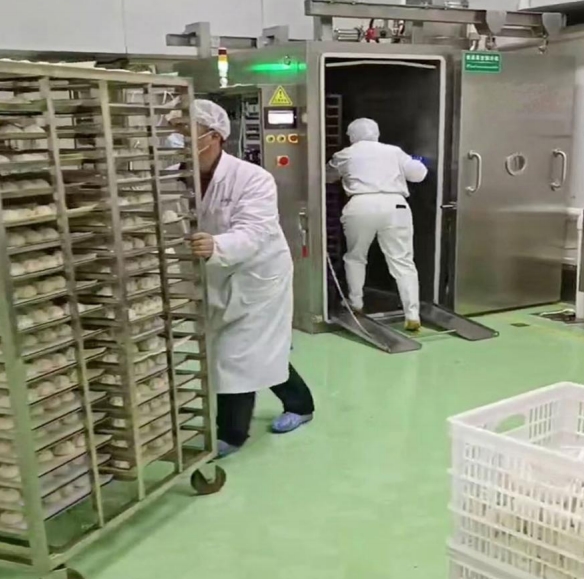 Energy Saving
Our food vacuum cooler saves space, labor, water, electricity, and steam, improves production efficiency, Could recovers costs in 1-2 years. The intelligent composite chiller can switch the operation mode intelligently according to different seasons to save energy.
Comparison of Ring Speed Fresh Food Cooling and Other Cooling: Our vacuum cooler can be up to 94% more energy-efficient than the traditional air cooling (winter operation mode). 0.1~0.3㎡/h, compressed air consumption is 0.02m³/h, steam consumption is 0~20kg/batch. Compared with the traditional air cooling, the energy saving is about 89%. At the same time, it saves space, shortens the production cycle, reduces the risk of pollution, guarantees the taste, and maintains the hygiene of the workshop.